For MP3s Shush Homepage and Spacehopper Homepage
<![if !vml]>

<![endif]>
trip.to/BritishGuitars
· Burns
· Shergold
· Vox
· E Basses
Introduction
Although Britain is renowned for its contribution to rock, pop and jazz the manufacture of it's guitars has been somewhat obscured by US giants like Gibson, Fender, Rickenbacker and PRS.
Although designing and producing some fantastic guitars, the sheer demand for U.S. instruments has lead to the inevitable sacrifices in quality associated with mass production. To overcome this many professionals seek vintage originals from the fifties that can cost thousands at auction or have special relationships with small, dedicated custom shops that charge an arm and a leg to mere ordinary punters. Hence, there is a vacuum between low quality mass produced guitars and unaffordable custom made guitars. Some British companies fill the vacuum by offering quality, handmade instruments without forcing customers to 'pay for a name'. Personally I don't see the kudos of owning an obligatory 'Strat' or 'Les Paul', which are these days very much features of a conservative and stayed rock establishment. Over the years my opinion of many classic guitars has changed from much dreamed of objects of desire to just overpriced musical instruments.
<![if !vml]>

<![endif]>
Its OK for him, he gets his Gibsons free
Although undeniably most of the world's nicest guitars come from the U.S.  (I'd give my right arm for a vintage ES335 if that didn't stop me from playing it), many British manufacturers are worthy of the attention of both the ordinary amateur guitarists who want something handmade without sacrificing a holiday and professionals who want guitars that are both credible and different from standard rock gear.
Gordon Smith
Based in small workshop next door to a Laundrette in Partington near Manchester; Gordon-Smith have been making very affordable handmade instruments for years. They produce about 500 guitars a year using traditional high quality woods like mahogany, maple and rosewood together their own very versatile electrics. They also experiment with less traditional materials for solid body guitars such as redwood and birch giving some models unique acoustic characteristics.
Their main electric guitars are the solid body GS-1, GS-2 and GS2-Delux which with their small size and double cutaway look a bit like Les Paul 'Standard Lites' or 'TV Studios'. However, unlike Lites and TVs their pickups that can operate in both single coil or double coil (hum bucking) modes giving them sounds ranging from light and percussive Fenders and to more weighty and sustaining Gibsons. Much to their credit, Gordon Smith haven't simply gone for the option of churning out copies of Les Pauls and Strats, instead their guitars are tasteful and distinctive instruments in their own rite.
For instance the GS1 is a very simple instrument. Originally designed for a competition to save natural resources it combines a lacquered mahogany body and mahogany neck without the usual sonically irrelevant frills like rosewood fret boards, trimmings, pearly inlays etc. The result is a very fine handmade guitar at a very affordable price.
More adventurous designs like the GS2-Delux have incorporated acoustically distinctive softwoods stabilised by novel construction techniques.
Owners and magazine reviewers alike rave about the quality of Gordon Smith guitars which is remarkable considering their price tag is comparable to mass produced 'Third World' Fenders.
<![if !vml]>

<![endif]>
A twelve-string version of the Gordon Smith GS1
<![if !vml]>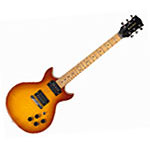 <![endif]>
A Gordon Smith GS2-Delux
Unfortunately they don't have a website though here are some Gordon Smith Distributors - Fairplay, Machine Head
                Ive done a naff little MP3 demo called 'Gordy' of my GS2 standard through a Pod via Shush Downloads
Patrick Eggle
After graduating from 'The London College of Furniture', with the help of the 'Prince's Trust' Patrick Eggle managed to impress many famous musicians like Brain May (Queen), Toni Iomi (Black Sabbath), Mid Ure (Ultravox), Nick Kershaw and Noel Gallagher (Oasis) with his extremely well made guitars. Originally trading under the name 'Climax' (more website hits), Eggle guitars share many similarities with the much more expensive American made PRS guitars. To quote Brian May, who himself is from a family of guitar makers, 'Eggle guitars are beautifully made, really beautiful', obligations to Guild and his homemade 'Red Special' being the only reason why his isn't an official endorser. Eggle production models include the 'Berlin Pro' which is very similar in construction and to the PRS 'Custom24' and the very affordable 'New York' which has a maple/alder body with a Jackson style pickup arrangement.
<![if !vml]>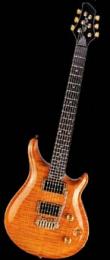 <![endif]><![if !vml]>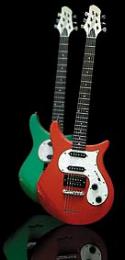 <![endif]>
An Eggle Berlin Pro and two New Yorks
http://www.patrickeggleguitars.co.uk/
Burns
Known as the 'British Leo Fender', the late Jim Burns formed a company with a tradition of making electric guitars going back to the sixties. Their models tend to resemble Stratocasters being primarily alder with maple necks though they also use more innovative woods like tulip and magnolia (I thought these were flowers). Their guitars also have distinctive violin like scroll headstocks and many innovative features such as the 'rez-o-matic' pickups, bridges which pass strings through individual resonance tubes for greater clarity or the 'Burns Active Transonic System' which picks up sounds via direct contact with the bridge.
They also do some very colourful body designs, the sterling silvers, natural burst swampy greens, blacks, reds and blues together with very elaborately decorated tortoise shell pick guards make many other guitars look drab and boring in comparison.
Burns guitars are both high quality and distinctive now being handmade in their Surry factory for a growing cult following after a difficult period in the eighties. Their recent handmade production models like the 'Legend' compare well with custom shop Fenders.
In the past, Burns made guitars for the likes of Hank-Marvin (The Shadows), George Harrison (Beatles), Jimmy Page (Led Zepplin) and Brian May (Queen). Notably Brian May's famous 'Red Special' has Burns trisonic pickups.
Burns have recently started a Club series sourcing some production in modern Korean factories for a wider market. Despite the new affordability, production standards and quality of materials are still high. For instance their new Korean made 'Marquee' represents amazing value for money having the materials and electrics of much more expensive guitars. I recently bought one of these and have to say it's a very nice guitar indeed and compares well with US Strats. For a new semi pro guitarist playing live two Marquees makes more sense than one standard US Strat, being very much in the same league sonically whilst also more distinctive, sturdy and affordable to replace.  
<![if !vml]>

<![endif]>
The Burns Marquee represents fantastic value for money
http://www.burns-guitars.co.uk/
Shergold
I remember when you could see Shergold guitars sitting in the corner of every music shop though they were unfortunately largely over looked by people keen to try out more famous names. The now defunct company was a spin off from Burns, formed by Jack Golder in the seventies. They offered attractive looking handmade instruments and had some famous patrons included Mick Rutherford (Genesis) and New Order. Shergold were particularly known for the double neck bass and guitar combinations that were once obligatory kit for many seventies progrock bands. Their guitars such as that Masquerader and Custom Double used kiln dried hardwoods, a process that in theory would increase stability and improve tone in much the same way as natural aging (one reason why people rave about vintage stuff).
<![if !vml]>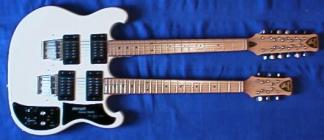 <![endif]>
Shergold guitars have a cult following and have become valuable collectors items, for more info go to the unofficial web site.
Vox
Although more famous for their amps, British company Vox also made some very distinctive guitars with a teardrop shape and stacked humbuckers. Famous patrons included Brian Jones of the Stones and later scar reggae bands like The Beat. Listen to the chord sequences in The Beat's 'Mirror in the bathroom' to get and idea of how nice these guitars can sound clean. Vox reissues are now made in the US – the sixties originals fetching stupid money on the vintage market.
<![if !vml]>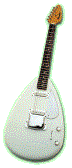 <![endif]>
Pangborn Guitars
<![if !vml]>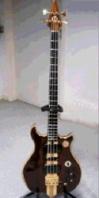 <![endif]>
Like Patrick Eggle, Ashtley Pangborn  was a graduate from the London School of Furniture Making. He has handmade bass guitars for the likes of Mark King and John Enwistle.  For more info http://www.bonniebasses.co.uk/
JJ Guitars
These are a new company in the quest for the perfect guitar having started in the nineties as a maker of custom guitars. Their adds have begun to appear music magazines with some impressive session guitarists for endorsers. One famous user I think is Daemon Hill – the racing car driver – gosh. They may become a British PRS or Guild though it's still early days.
Their recently released models are the Retro and Jewel. Essentially mahogany guitars they are similar sonically to Les Paul Standards and Juniors. However they are UK made, distinctive and very competitively priced. They are getting some rave reviews and the company is certainly one to watch.
Jaydee Guitars
John Diggins is a specialist bass guitar maker for the likes of Mark King. Jaydee basses are a high end alternative to fender custom shops. Heres a good starting point to find out more http://www.geocities.com/serial06757/Level42.html
John Birch
John birch is a famous custom guitar maker for the likes of Dave Hill (Slade), Toni Iomi (Black Sabbath) and Brian May (Queen). The John Birch Super Yob now owned by Marco Peroni (Adam and the Ants) was originally made for Dave Hill to suit the then serious fashion errors of Glam Rock. Toni Iomi's most used guitar is a birch Gibson SG copy, though left handed with 24 frets. Birch also made a blond version of Brain Mays red special, a guitar he later smash up at a gig (he seems so placid in interviews). Somebody found the pieces, which got into the hands of Guild who used then them to make their own Red Special copy.
<![if !vml]>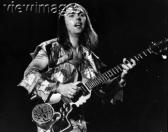 <![endif]>
Dave Hill with his Super Yob.
E Basses
<![if !vml]><![endif]>
Handcrafted electric bass guitars made in England by Ian Hancock and Nick Smith (shown above). Relatively new they have a range of six basses (and a six string in the pipeline), which can be built in a number of different construction styles to meet the needs of the individual player. To quote their website 'Being a custom builder, if you have a 'dream' bass then we would love to build it for you!'. More info via www.ebasses.co.uk
Overwater
Based in Cumbria, Overwater are makers of custom basses with a load of famous endorsers and session musicians – more info via http://www.overwaterbasses.com/
Brook Guitars
Based in Devon, Brook Guitars are known for making small numbers of high quality acoustic guitars. Their models usually are named after British Rivers such as the Tamar, Taw and Teign. They make a point of using local woods and recycled woods such as European Spruce wherever possible as well as more exotic materials such as Koa. Famous patrons include Ian Anderson and Martin Barre of Jethro Tull.
<![if !vml]>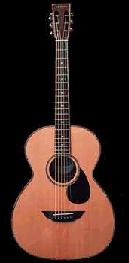 <![endif]>
Shown is the 'Torridge' the classic Brook guitar
Dave King Acoustics
Dave king is a maker of beautifully inlayed classical and parlour guitars. Based in Reading he has be making guitars for over sixteen years to very high standards. More information via www.daveking-acoustics.com.
Fylde Guitars
This Cumbrian based company have been making fine acoustic guitars and mandolins since 1973. Formed by Roger Bucknall they make about 500 professional guitars a year and can claim some impressive owners including Yes guitar god Steve Howe, Andy Summers (formerly Police) and the jazz guitarist Pat Metheny.
Lewes Guitar Makers
The Lewes Guitar Makers is a collection of individual luthiers who work independently in the same area and come together
under that banner for internet site purposes. They produce handmade classical, flamenco, steel string acoustic, mandolin and early guitars with an impressive following amongst professional classical guitarists.
http://www.lewesguitarmakers.co.uk/
Reviews and Other Links
BurnsMarquee - www.intermusic.co.uk
EggleReviews - http://www.guitarnotes.com/
GordonSmith GS2-Delux - www.intermusic.co.uk
Guitar Database - www.harmony-central.com

<![if !supportLineBreakNewLine]>
<![endif]>
Guitars of famous people http://www.zipzip.demon.co.uk/guitar/bands.html
Guitar Site http://www.guitarsite.com
This page is a bit crap as it stands, so if you know of any more good British guitars makers or have extra info please let me know, cheers i.drumm@salford.ac.uk)
For MP3s Shush Homepage and Spacehopper Homepage

<![if !supportLineBreakNewLine]>
<![endif]>
<![if !supportEmptyParas]> <![endif]>