Solid Body Electrics and Basses
Gordon Smith
Based in small workshop next door to a Laundrette in Partington near Manchester; Gordon-Smith have been making very affordable handmade instruments for years. They produce about 500 guitars a year using traditional high quality woods like mahogany, maple and rosewood together their own very versatile electrics. They also experiment with less traditional materials for solid body guitars such as redwood and birch giving some models unique acoustic characteristics.
Their main electric guitars are the solid body GS-1, GS-2 and GS2-Delux which with their small size and double cutaway look a bit like Les Paul 'Standard Lites' or 'TV Studios'. However, unlike Lites and TVs their pickups that can operate in both single coil or double coil (hum bucking) modes giving them sounds ranging from light and percussive Fenders and to more weighty and sustaining Gibsons. Much to their credit, Gordon Smith haven't simply gone for the option of churning out copies of Les Pauls and Strats, instead their guitars are tasteful and distinctive instruments in their own rite.
For instance the GS1 is a very simple instrument. Originally designed for a competition to save natural resources it combines a lacquered mahogany body and mahogany neck without the usual sonically irrelevant frills like rosewood fret boards, trimmings, pearly inlays etc. The result is a very fine handmade guitar at a very affordable price.
More adventurous designs like the GS2-Delux have incorporated acoustically distinctive softwoods stabilised by novel construction techniques.
Owners and magazine reviewers alike rave about the quality of Gordon Smith guitars which is remarkable considering their price tag is comparable to Mexican Fenders.

A twelve-string version of the Gordon Smith GS1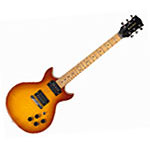 A Gordon Smith GS2-Delux
Unfortunately they don't have a website though here are some Gordon Smith Distributors - Fairplay, Machine Head
                Ive done a naff little MP3 demo called 'Gordy' on my GS2 standard through a Pod via Shush Downloads
Patrick

Eggle
After graduating from 'The London College of Furniture', with the help of the 'Prince's Trust' Patrick Eggle managed to impress many famous musicians like Brain May (Queen), Toni Iomi (Black Sabbath), Mid Ure (Ultravox), Nick Kershaw and Noel Gallagher (Oasis) with his extremely well made guitars. Originally trading under the name 'Climax' (more website hits), Eggle guitars share many similarities with the much more expensive American made PRS guitars. To quote Brian May, who himself is from a family of guitar makers, 'Eggle guitars are beautifully made, really beautiful', obligations to Guild and his homemade 'Red Special' being the only reason why his isn't an official endorser. Eggle production models include the 'Berlin Pro' which is very similar in construction and to the PRS 'Custom24' and the very affordable 'New York' which has a maple/alder body with a Jackson style pickup arrangement.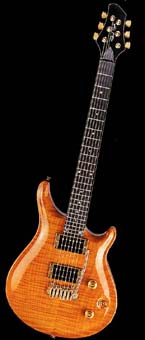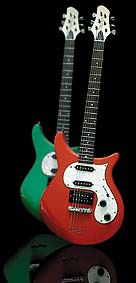 An Eggle Berlin Pro and two New Yorks
I own a New York Broadway, an instrument which bears a resemblance to a 300 series Rickenbacker being semi-hollow with mapeglo finish. Unlike Rickenbackers it has a mahogany back and coil trappable Seymour Duncans which gives the player the option to switch from a Rickenbacker style jangle to a weightier Gibson ES335 impersonation. The guitar has a very refined sound and high build quality.
http://www.patrickeggleguitars.co.uk/
Burns
Known as the 'British Leo Fender', the late Jim Burns formed a company with a tradition of making electric guitars going back to the sixties. Their models tend to resemble Stratocasters being primarily alder with maple necks though they also use more innovative woods like tulip and magnolia (I thought these were flowers). Their guitars also have distinctive violin like scroll headstocks and many innovative features such as the 'rez-o-matic' pickups, bridges which pass strings through individual resonance tubes for greater clarity or the 'Burns Active Transonic System' which picks up sounds via direct contact with the bridge.
They also do some very colourful body designs, the sterling silvers, natural burst swampy greens, blacks, reds and blues together with very elaborately decorated tortoise shell pick guards make many other guitars look drab and boring in comparison.
Burns guitars are both high quality and distinctive now being handmade in their Surry factory for a growing cult following after a difficult period in the eighties. Their recent handmade production models like the 'Legend' compare well with custom shop Fenders.
In the past, Burns made guitars for the likes of Hank-Marvin (The Shadows), George Harrison (Beatles), Jimmy Page (Led Zepplin) and Brian May (Queen). Notably Brian May's famous 'Red Special' has Burns trisonic pickups.
Burns have recently started a Club series sourcing some production in modern Korean factories for a wider market. Despite the new affordability, production standards and quality of materials are still high. For instance their new Korean made 'Marquee' represents amazing value for money having the materials and electrics of much more expensive guitars. I recently bought one of these and have to say it's a very nice guitar indeed and compares well with US Strats. For a new semi pro guitarist playing live two Marquees makes more sense than one standard US Strat, being very much in the same league sonically whilst also more distinctive, sturdy and affordable to replace.  


The Burns Marquee represents fantastic value for money
http://www.burns-guitars.co.uk/
JJ Guitars
These are a new company in the quest for the perfect guitar having started in the nineties as a maker of custom guitars. Their adds have begun to appear music magazines with some impressive session guitarists for endorsers. One famous user I think is Daemon Hill – the racing car driver – gosh. They may become a British PRS or Guild though it's still early days. They currently do two production models, the Retro and Jewel. Both are mahogany, with hard tails and P90s, one with maple cap and one without. Both guitars are significantly cheaper that their Gibson and PRS counterparts whilst offering comparable spec and build quality. 
John Birch
John birch is a famous custom guitar maker for the likes of Dave Hill (Slade), Toni Iomi (Black Sabbath) and Brian May (Queen). The John Birch Super Yob now owned by Marco Peroni (Adam and the Ants) was originally made for Dave Hill to suit the then serious fashion errors of Glam Rock. Toni Iomi's most used guitar is a birch Gibson SG copy, though left handed with 24 frets. Birch also made a blond version of Brain Mays red special, a guitar he later smash up at a gig (he seems so placid in interviews). Somebody found the pieces, which got into the hands of Guild who used then them to make their own Red Special copy.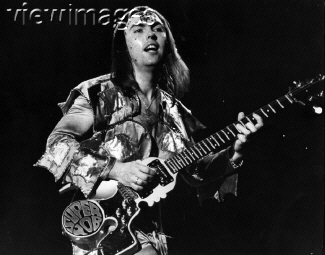 Dave Hill with his Super Yob.
Eccleshall
Chris Eccleshall is a Devon based guitar maker and repairer with, after 25-years, a client base that reads like and who's who of British rock including Pete Townshend, Dave Davies, David Bowie, Rory Gallagher, Paul Weller, etc. The workshop can also custom make guitars within the price range of us lesser mortals, offering excellent value for money. (Unit 2, Webbers Way, Dartington, Devon, TQ9 6JY)
http://www.eccleshallguitars.co.uk/
D.M.Guitars