Space Hopper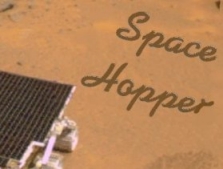 www.acmerock.co.uk
---
Biography
Formed in Manchester, UK in the early nineties Space Hopper has rapidly become a prominent unsigned band. In January 1996 under the name Acme Rocket they were asked to contribute to the press/industry sponsored Resolution Record's CD, Next Stop North a compilation of what they believe were seven most promising unsigned bands currently gigging in the North West. Since then they have enjoyed airplay on numerous independent and college radio stations as far a field as the United States, Australia and Brazil.
---
The Band
Michael Dolan : Vocals
Ian Drumm : Keyboards, Guitar
Mark Watling : Lead Guitar
Steve Watling : Drums
Tim Whiteley : Bass
---
The Music
The music can be categorized as indie, progressive and alternative. The band play strong distinctive melodies, in a style ranging from soft to powerful, emotive, distinctive and daring. They are noted for their high standard of musicianship and virtuosity and for being polished yet exciting live performers. They have recently been likened to The Stone Roses and early Yes.
Space Hopper make much of thier music freely available over the web. The internet will hopefully shake up a stagnating music industry by giving unsigned acts a chance to get heard while the overhyped, overpaid, undertalented creations of the establishment a kick in the arse. To find out how read Brad Kava's article Music industry facing a revolution